Ms. Camille
Infant Teacher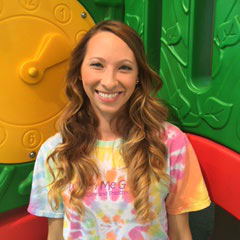 I have been a part of the Watch Me Grow team for over a year and I couldn't be more happy about my experience! I have always had a love for children, but that love solidified when I was blessed with three of my own, James (4), Lillian (3) and Heidi (5 months). Beyond raising my own three children, I also have experience as a nanny and a caregiver. In the near future I plan on expanding my passion by going to school to become an elementary school teacher. Working with children is such a rewarding experience. There is nothing I hold more dearly than the responsibility of being able to help shape the young minds of our future.
My time at home is just as busy, between spending time with my wonderful fiance and my babies there is always something going on. As I'm sure you can relate my spare time is limited, but when I do have a few minutes there is nothing I enjoy more than sitting down and reading a great book!
It has been a pleasure getting to meet each of the parents of my students and I look forward to meeting those of you I still have yet to. Your children are very sweet and it has been a pleasure spending time with each of them. I'm proud to be a key influence in their development. I'm excited for all the continued joy and laughter, and above all, I am proud to watch them grow!
Exceptional Teachers
Just read some of our parent reviews to know that Watch Me Grow's continued success stems from our exceptional child care team members. When hiring preschool teachers and staff, we select highly qualified individuals who share our love for young children and learning!