Ms. Claudia
Infant Teacher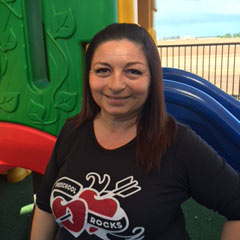 Hello my name is Claudia Turcios. I was born in Yucatan Mexico and moved to California in 1989 to pursue an Education. I learned English at El Camino Community College and earned an A.A. Degree in Education and graduated in 1993 with honors. I have been married for 22 years. I currently reside in Gilbert, Arizona with my husband, my 4 wonderful boys and 4 energetic dogs. My hobbies are Zumba and spending time with my wonderful family. I have over 20 years experience working in a school setting. I have been so fortunate to be part of Watch Me Grow - since November of 2006 — over 10 years now!! was a Lead Teacher in the Pre-K (Fours) classroom for over 8 years and currently I am the Lead Teacher in the Infant Classroom. What a treat it is spending time with all the sweet babies. I absolutely love it! I like to sing, dance and read stories to all the babies. But my favorite thing to do is give them lots of love and cuddles. I have made so many great memories at Watch Me Grow and I have met so many wonderful Families. I LOVE teaching and LOVE my Watch Me Grow Family!
Exceptional Teachers
Just read some of our parent reviews to know that Watch Me Grow's continued success stems from our exceptional child care team members. When hiring preschool teachers and staff, we select highly qualified individuals who share our love for young children and learning!