Ms. Maria
Toddler Teacher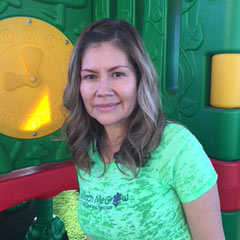 Hi! I am Ms. Maria and I joined Watch Me Grow in August 2016. For the past years, I have been a stay at home mom to my three beautiful children and volunteering at the YMCS in the Child Care area. I had an amazing and extraordinary experience with both roles as a caregiver to my children and to the children at the YMCA. I can honestly say I enjoyed every minute of it! For that reason, I enrolled at Chandler Gilbert Community College and studied Early Childhood Development, earning my CDA. I feel very excited and enthusiastic about offering the children the best possible care that they deserve. I look forward to caring for these little ones as they mature throughout the different areas and domains of their development. As we all know, children are born ready to learn and explore their own world. I am thrilled to be part of their developmental journey.
Exceptional Teachers
Just read some of our parent reviews to know that Watch Me Grow's continued success stems from our exceptional child care team members. When hiring preschool teachers and staff, we select highly qualified individuals who share our love for young children and learning!