Ms. Jackie
Toddler Teacher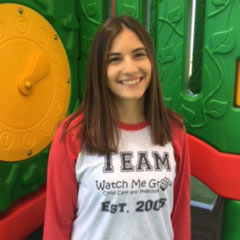 I am Ms. Jackie. I have been working here at Watch Me Grow since April 2015. I am primarily a Older Toddlers (Twos) teacher, but I also help out in other classrooms when needed. I am currently attending Chandler-Gilbert Community College and will be starting an Elementary Education program through NAU's extended campus here next fall. I am planning on becoming a First Grade teacher! I absolutely love working with children. To me, it is more of a hobby than a job! Nothing makes me happier than walking into a room of toddlers running up to me excited to see me and giving me hugs. Not only does this job bring me joy, but it prepares me for the future. I have learned so much working at Watch Me Grow and from your little ones. Not only am I teaching them, but they are teaching me. I love Watch Me Grow!
Exceptional Teachers
Just read some of our parent reviews to know that Watch Me Grow's continued success stems from our exceptional child care team members. When hiring preschool teachers and staff, we select highly qualified individuals who share our love for young children and learning!