Ms. Irma
Training Specialist & Preschool Teacher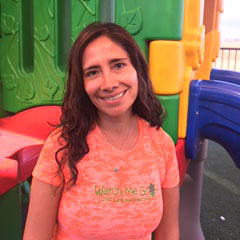 Hi, my name is Irma and it is a pleasure to introduce myself to all the wonderful families at Watch Me Grow. I am originally from Peru and moved to the USA in the year of 1999. I am the 3rd child in my family. My dad was a doctor and my mom is a retired accountant. My mom still lives in Peru and my two sisters live in Texas. I am happily married to my husband Ray and we have a 14-year-old daughter named Fiona and a furry 4 legged daughter named Bela. My family loves hiking, swimming and riding bikes.
I have my Associate in Applied Science Degree in Early Learning and Development and I am a certified Early Care Specialist. I own a small business teaching the Spanish language called Arcoiris The Magic of Spanish.
I consider myself a hard-working, caring, compassionate and enthusiastic teacher, who started at Watch Me Grow almost 10 years ago. I have worked in all the classes but mainly in the 3-year-old class. A couple of years ago I was given the job as the Training Specialist and I have enjoyed helping new teachers by sharing the skills and knowledge that they will need to be able to give the quality and high standards care that Watch Me grow is known for.
The best part of my day at Watch Me Grow is to see children accomplish their milestones in their own unique way and in their own time. I am so happy when they approach me and say "Ms Irma I did it!" with a big smile on their faces.
The best part of working with children is to experience their unique personalities and ways of learning. Their smiles, laughs, curiosity and imagination are so vivid, they give me precious moments to remember. Being a part of their early education and knowing that I am making a positive difference in their world is the best reward I receive as a teacher.
I am looking forward meeting your families.
Ms. Irma
Exceptional Teachers
Just read some of our parent reviews to know that Watch Me Grow's continued success stems from our exceptional child care team members. When hiring preschool teachers and staff, we select highly qualified individuals who share our love for young children and learning!