Ms. Cody
Toddler Teacher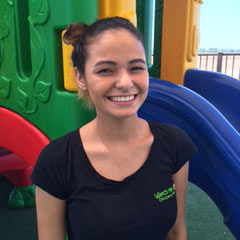 Hey there! I'm Ms. Cody and I've been working with kids for now over 5 years. I've been with Watch Me Grow since November 2013 and counting :). I have my CDA so far & I've accomplished several different certificates from webinars I've taken. I have finished my infant/toddler development guidelines as well as my introduction to early learning standards. I am continuing to go to college and become a director for a daycare.
I have an amazing mother, father, older brother and sister-in-law. I also have a dog named Chico and a cat named Bella. Who doesn't love pet children aside from little humans :).
I enjoy going to museums and visiting churches because I am amazed at the beauty inside and the uniqueness they hold.
The best part of my day at Watch Me Grow is definitely interacting with my two's and getting their hugs and air kisses, the best feeling ever is knowing, they know I care and love them, and that they trust me.
The best thing about working with children is similar to what the best part of my day is, but also that I am changing lives for the better and being apart of their life is forever rewarding.
Exceptional Teachers
Just read some of our parent reviews to know that Watch Me Grow's continued success stems from our exceptional child care team members. When hiring preschool teachers and staff, we select highly qualified individuals who share our love for young children and learning!