Ms. Mandy
Preschool Teacher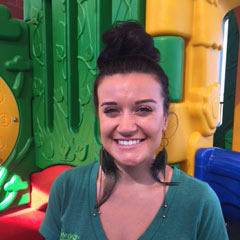 Hello! My name is Mandy and I have been working at Watch Me Grow for over three years, and have been working with children for about 7 years. I absolutely love working with children, it's so amazing to be able to watch them grow and watch their little personalities blossom. When working with children, you can never go to work and not smile and feel loved. The best part about working at Watch Me Grow is working with amazing ladies everyday and every morning I walk in and the kids saying "Hi Ms Mandy!!!" with huge smiles paired with the biggest hugs like they haven't seen me in weeks.
I attended Cosmetology school 8 years ago and I just currently finished up with Real Estate school receiving my license. I love to snowboard, work out, go running, read, travel, and hang out with my friends and family.
Exceptional Teachers
Just read some of our parent reviews to know that Watch Me Grow's continued success stems from our exceptional child care team members. When hiring preschool teachers and staff, we select highly qualified individuals who share our love for young children and learning!